HOME > Products > Wire Rope > Application for Crane
Application for Crane
Wire rope used for each crane and construction machinery require various characteristics depending on each application. We line up specific products in compliance with such characteristics other than the products based on JIS.
J-AM Wire Rope
In the management of crane maintenance, have you ever been forced to replace wire rope due to the breakage occurred unexpectedly earlier than the dead line of designated interval? When investigating the cause of such breakage samples, there mostly have been observed a.k.a. abnormal metal structure caused by some exterior damages on the surface, such as by hitting, robbing and so on.
The abnormal metal structure will eventually result in short life of wire rope due to the early breakage by the local cracks caused by the rapid growth of martensite thickness on the surface of wire filaments.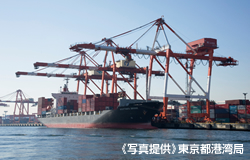 In reply to the crane operator's voice "We want more reliable wire rope with less unevenness in maintaining the interval of replacement.", we have been introducing " J-AM Rope", stands for "J-witex Anti-Martensite wire Rope", newly developed as a result of long time test trial with all of our technical know-how. Please try our new product.
Torqueless Rope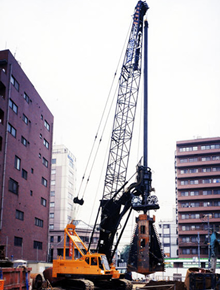 In case of normal type, wire rope generally wants to rotate back against twisted direction while being stressed. Therefore, the operation by normal type will get hard and wire rope itself will get damaged, because of the rotation of hung items by a single-line lifting and the tangling of wire ropes by multiple lines lifting.
In consideration of the above incidents, presently customer request wire rope to be sustainable with high breaking force, yet non-rotating of hung items and non-tangling of wire ropes each other.
In compliance with such a request, we have achieved our own technical development of " Torqueless Rope" as non-rotating wire rope of super quality.

Six Torqueless Ropes
This is kind of IWRC 6-strands rope with spin-resistant performance, in fact compared to regular 6-strands rope, our spin-resistant rope is hard to rotate, although it's not non-rotating rope. Handling performance by using this type of rope is easier than that by using non-rotating rope, because it's more durable on fatigue, abrasion and easiness in wrapping operation due to the same roping construction as regular 6-stands rope. And breaking strength and unit weight are the same as regular 6-stands rope.
We have two types of product available for six-torqueless wire rope.
KP-type: Rotation capabilities is designed in midway between regular 6-strands wire rope and Torqueless rope. Generally speaking, it's widely used for small to mid-size construction crane because of easy handling. Comparing with regular six-strands rope, the pitch of wire rope designed is longer while pitch of strand designed is shorter.
KL-type: Enhanced spin-resistant compared to KP-type, though may have tendency to deform. This product is available upon special request with special application only.
Following constructions are available for six Torqueless Rope: IWRC 6 x Fi(29) , IWRC 6 x WS(31), IWRC 6 x WS(36)

Forming Rope
Forming Rope is our brand name for Compacted Wire Rope or Wire Rope with Profile wire under the JIS specification.
Presently capacity and size of machinery by customer being upsized, thus wire rope must overcome additional required condition for breaking strength with ability to endure severe condition. Our engineer team being researched and developed extended life-span of product by adding forming process during strand manufacturing. Special forming process we developed will enhance not only extended life-span but also superior anti-abrasion capabilities. In addition, as powerful compacting process during the forming gives less gap on wire between the each layer, it is hard to deform from external forces.
The breaking force being increased to 7-20% compared to same size and construction of normal type of wire rope due to increased cross-sectional area.