HOME > Products > Wire Rope > Fishery Application
Fishery Application
For product requires anti-corrosion capabilities, we have a galvanized wire rope on our product line-up, furthermore we have an extra-anti corrosion protection including KALS wire rope, a.k.a. Aluminum Coated Wire Rope, and KALG Wire rope (Zinc-Aluminum Alloy Coated Wire Rope) available for Fishery use.
KALS Wire Rope
Our Aluminum coated wire sold under name "KALS wire rope." Our aluminum coated wire rope being suited usage for following location including usage at costal area, industrial area, volcanic and hot spring area, and acidic river where anti-corrosive protection required.
In other notified products using KALS wire rope including wire fences, falling rock protection fences, wire connection used for concrete embankment, trolley wire, and ground wires.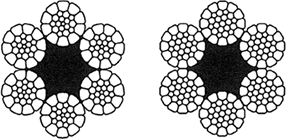 KALG Wire Rope
Our Zinc-Aluminum coated galvanized wire, a.k.a. KALS, manufacturing process require specially designed thick plating machinery for wire to be able to provide thick Zinc-Aluminum coating. Thick plating machinery, composed of gas-wiping system and special cooling function, enable to offer thick coating on wire.
Generally speaking, Zinc-Aluminum coating has two to three times more on anti-corrosion characteristics compared to ordinary galvanization. KALG, by thicker coating than ordinary galvanization, is able to provide further more anti-corrosive capability.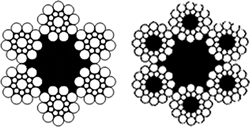 KS Rope
Our KS rope is specifically used for crane using grab bucket. The product being developed for harsh environment usage explained below.
Wire Rope using grab bucket at sea or land for transporting sand and gravel, unlike general crane used at the construction site, an impact loading occurs when bucket releasing ground off.
Wire rope in an axial direction, extra tension from the impact loading occurs.
Wire rope in a horizontal direction, vibrations occur from an impact loading causing wire rope to be hammered at sheaves etc.
Both incidents 1. and 2. occur simultaneously, and product being considered for winding which occurs at an impact loading.
Our product "KS Rope" being designed for severe condition like an impact loading to be able for wire rope to sustain from the anti-impact, anti-abrasion, and anti-fatigue characteristics, in addition, manufacture of wire and stranding being set up with long history of development and improvement. Good product satisfaction has been seen for users of KS Rope through the service for many years.